Today we present you a refreshing and colourful concept. From an island in the southwest of the Indian Ocean where life is good… Reunion with a fresh and tropical concept, that is L'ile Marion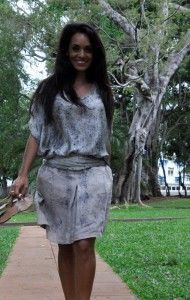 Subtle awakening of the senses, with vegetal and soft colours…
L'île Marion is a young company based in Reunion Island. The brand's image is definitely ecological and modern, between creative spirit, innovation and sustainable development.
The young designer, Marion Lacronique, offers eco-chic clothing lines with the "natural" colours of the island.
A Reunionese shade drawn from the forest
She uses plants (bark, roots, branches, leaves, wood), favouring invasive species and bio-available plants, for dyeing its materials. The fabrics used are with natural fibers such as linen, silk, cotton, available in different qualities: jersey, muslin, satin, Georgette, woven…
From research to finished product
The creation of the colours required numerous tests. First, a referencing of the plants took place. This involved in-depth research through more than 50 varieties of Reunion's flora. Plant samples were collected. An extraction (called hydroalcoholic) of the dyes follows. Then the concentration and drying takes place. The tests on the textile support can finally begin.
According to a standardized process, we study the solidity, "light and washing" on different supports such as silk for example. The best extracts are selected to develop the textile collection of L'Ile Marion.
Ultimately, L'ile Marion produces unique and original clothing, as well as a line of textile accessories. The manufacturing process is ecological and controlled from a to z.
More information:
http://lilemarion.com/