Woven name tags
Woven customized name tags  
A garment that is labelled is easy to find, in school, on holiday or in kindergarten.! Also, when you have several children it can be very helpful to label their clothes. Name tags are an easy, quick and inexpensive way to mark your garments. Our woven name tags will resist intensive washing!
You can even order your name tags with a special symbol, so it will be easy for your children, big and small, to find their sweaters, scarfs or shoes…
Taffeta Polyester
Background colour : Only white
Thread colour : 2 choices : blue / red
Width : 10 mm
Length : adapted to your text
Price for a sewing label : For 104 names: 19,40 € TTC – For 208 names: 25.77 € TTC
Prix for a heat seal label : For 104 names: 25,20 € TTC – Pour 208 names: 33,40 € TTC
No delivery fees  
Delivery time  : 5 work days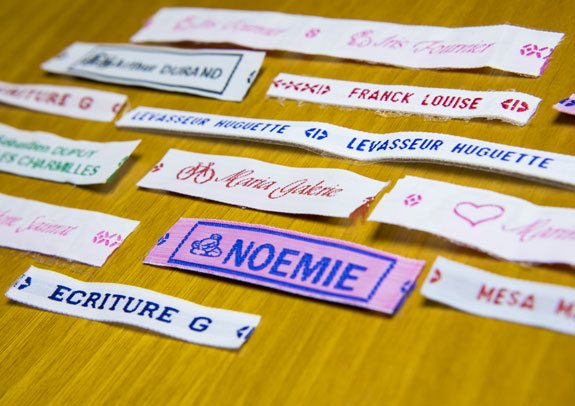 Name tags for people in long-term care
These carefully manufactured name tags (sewing labels or heat-seal labels) are an easy and economical way to label your garments. Essential for people that stay in long-term care.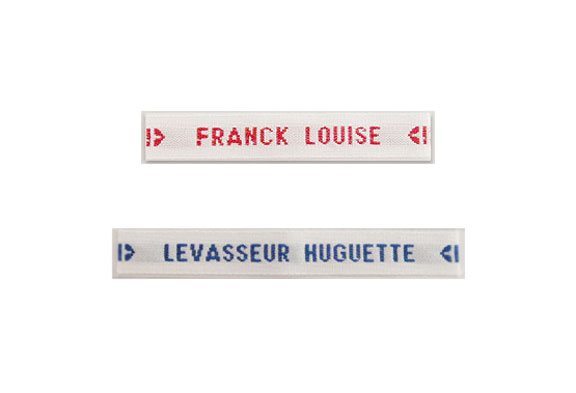 Woven name tags are manufactured on a taffeta polyester ribbon  
Text depending on your choice, up to 25 characters per line
Back ground colour : Only white
Thread colour : 2 choices : blue / red
Available in sewing labels and in heat seal labels ( application by hot iron ).
Width  : 8 mm
Price sewing label : For 104 names: 19,40 € TTC – For 208 names: 25.77 € TTC
Price heat seal label : For 104 names: 25,20 € TTC – For 208 names: 33,40 € TTC
Payment with order only
Delivery time  : Delivery by mail, quick delivery time ( 5 work days )
Sewing name tags or heat seal name tags for everyone
Our carefully manufactured woven name tags, sewing or heat seal will allow you to quickly and inexpensively label your children's garments. Essential for school, kindergarten or during school trips or summer camp.
Click here to see the possibilities
Taffeta polyester
Back ground colour : 7 backgrounds possible (see possibilities above)
CThread colour : 9 colours to choose from
Characters: 15 fonts to choose from
Logos: 22 different logos to choose from
Available in sewing labels or in heat seal labels (application by hot iron)
Possibility to choose a frame if you only have one line of text ( with or without a motive )
Width : 10 mm
Length : adapted to your text ( up to 25 characters per line )
Price sewing label : For 104 names : 25 € TTC – For 208 names: 30 € TTC
Price heat seal label : For 104 names: 33,50 € TTC – For 208 names: 43 € TTC
Payment with order only 
Delivery time : Delivery by mail, quick delivery ( 5 working days )