Capvertdesign + Crafts
It is a company from the island of Sao Vicente in Cape Verde, created by a Frenchwoman in 2013 in Mindelo and exclusively dedicated to the craftsmanship of this small country. Workshops are organized there for curious visitors and tourists. In this magical place which sometimes takes the form of a store, sometimes that of a concert hall or a workshop, an incredible atmosphere reigns. All the items in the textile collections bear the personalized label by Griffes Vivienne. Here we can discover the famous "Pano de Terra"
Pano de Terra, what is it?
The Pano de Terra is a creation usually made by a local weaver. In Cape Verde, it is considered an artisanal gem and an example of cultural preservation.
Peacock is a fabric most often black and white. Cape Verdean women wear it around the waist for the island's traditional dance, Batuku.
the clothing label was produced in France by Griffes Vivienne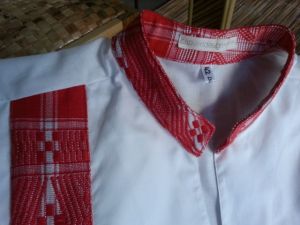 Here, a shirt with the famous PANO DE TERRA (traditional weaving).